2018 healthiest oil in the nation of italy…

experience the flavor of handcrafted Italian olive oil.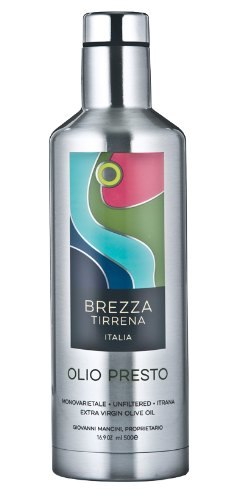 Harvest Year 2021-2022
Olio Presto
Peppery. Bitter. Robust.
Brezza Tirrena hand harvests its Itrana olives late September and early October each year. This green, unripe olive assures the highest possible polyphenols the olive can yield. The taste of the oil is green and grassy with a bitter peppery pungent sensation in the upper back (Oro-Pharynx) region of the throat. The perception of this early harvested Itrana olive is an aromatic sensation reminiscent of the scent of the leaves of the green tomato plant.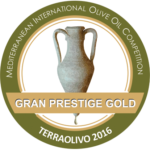 OLIO PRESTO
2018 Mediterranean International
Olive Oil Competition
2017 Mediterranean International
Olive Oil Competition
2016 Mediterranean International
Olive Oil Competition
Jerusalem Israel
bathed in the breeze of the Tyrrhenian sea
Olive Oil from the Heart of Italy
"IN ITALY, OLIVE OIL IS THE LIQUID OF LIFE.
THE LIFELINE THAT CONNECTS GENERATIONS OF FAMILIES."
"The sights and tranquility of the land captured my heart but the taste of olive oil from the region captured my soul.  These trees are living testaments to the Italian past and are truly a part of my family.  Behind our extra virgin olive oil is a story of tradition, family, and a desire to create the world's finest olive oil.
Share a bottle with those you love.  Give them the gift of great company, great conversation, and a great oil that truly is the heart of Italy."

Love our Olive Oil... Join the Club.