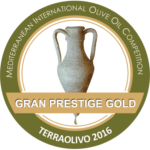 OLIO PRESTO
2016 Mediterranean International Extra Virgin Olive Oil Competition
GRAN PRESTIGE GOLD MEDAL WINNER – ISRAEL
experience the flavor of handcrafted Italian olive oil.
Our 2016/2017 Harvest has arrived. Order now.

Harvest Year 2015-2016
Maturo
Harvested later in the season, Brezza Tirrena Olio Maturo has a more balanced, mellow flavor than our Presto oil. By waiting for the Itrana olive to mature, the flavor of the olive mellows out to achieve a more full-bodied oil and a more traditional, golden-hued oil. A more balanced flavor profile with fruity, aromatic undertones of almond and artichoke, OLIO MATURO is the perfect compliment to any meal or celebration.


Harvest Year 2015-2016
Peperoncino
Spicy. Colorful. Strong.
Our only aromatically infused oil, Brezza Tirrena Olio Peperoncino is an oil that hides deep complexity beneath it's spicy exterior. Infused with the chile peppers known as "Guarda in Cielo" which translated to "Look to Heaven," OLIO PEPERONCINO is an oil for anyone who craves spicy flavors. By crushing the chiles simultaneously with the olives, the flavors are allowed to mingle and achieve a spicy, complex balance that will be the talk of any meal.
Peppery. Bitter. Robust.
The taste profile of the Brezza Tirrena Olio Presto is a result of hand-picking the Itrana olives earlier in the harvest season. A less mature olive produces a higher amount of heart-healthy polyphenols which create a more bitter and peppery oil than most people are accustomed to. From the moment you open the bottle, you are struck with a pungent pepper smell and quickly realize that this unlike most olive oils you have ever experienced.
bathed in the breeze of the Tyrrhenian sea
Olive Oil from the Heart of Italy
"IN ITALY, OLIVE OIL IS THE LIQUID OF LIFE.
THE LIFELINE THAT CONNECTS GENERATIONS OF FAMILIES."
"The sights and tranquility of the land captured my heart but the taste of olive oil from the region captured my soul.  These trees are living testaments to the Italian past and are truly a part of my family.  Behind our extra virgin olive oil is a story of tradition, family, and a desire to create the world's finest olive oil.
Share a bottle with those you love.  Give them the gift of great company, great conversation, and a great oil that truly is the heart of Italy."